For questions regarding content, rules, and guidelines, please contact Jennifer Pichardo at [email protected] or at (201) 487-1050 x 115.
For technical support, contact [email protected]. Emails are monitored seven days a week from 7:00am-11:00pm Eastern Time or you can call +1 401.334.0220 Mon-Fri from 8:00am-6:00pm Eastern Time.
The Consortium of Multiple Sclerosis Centers (CMSC) invites submissions for Poster and/or Platform presentations that address timely issues involving MS basic and clinical research, patient care and treatment outcomes. Submissions that reflect collaboration between specialties are encouraged.

The categories to be highlighted include:
Diagnosis and Prognosis
Basic Science
Mental Health and Psychosocial Issues
Comprehensive Clinical Care – The Team Approach
Disease Modification and its Outcomes
Epidemiology, Genetics, and Epigenetics
Neuroimaging and Neurophysiology
Programs that Support Quality of Life
Rehabilitation Research and Strategies
Symptom Management
Advances in Technology
Patient Reported Outcomes
Programs and Methods of Care
Case Reports/Case Series
| | DEADLINE |
| --- | --- |
| | |
| | |
| Make changes to abstracts for IJMSC publication | |
| Confirm attendance to the meeting | |
| Upload Slides for oral presentation | |
| Upload posters for poster presentations | |
| | |
| Authors MAY start hanging their posters | |
| | |
| | |
| | |
INSTRUCTIONS AND GUIDELINES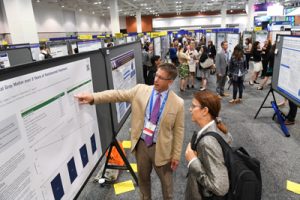 All healthcare professionals are welcome to submit abstracts. Authors need not be members of CMSC or be sponsored by a member. Acceptance will be based entirely upon the quality of the work and the appropriateness of the topic.
Submission of a proposal implies a commitment to present at the meeting. Authors of accepted abstracts must register for the conference. The CMSC cannot assist with your costs. You may apply for scholarship support but this process is separate from the abstract review and approval of your work.
CMSC STATEMENT ON COMMERCIAL INTEREST AUTHORS AND PRESENTERS
Platform Presentations: In support of improving patient care, the Consortium of Multiple Sclerosis Centers (CMSC) is jointly accredited by the Accreditation Council for Continuing Medical Education (ACCME), the Accreditation Council for Pharmacy Education (ACPE), and the American Nurses Credentialing Center (ANCC), to provide continuing education for the healthcare team. CMSC is committed to comply with the rules and guidelines set forth by these agencies to ensure that these standards are strictly followed. The work of commercial interest authors and presenters will be considered for review provided that the content focuses on basic science and not on the product or on the commercial aspects of the discovery. Acceptance of an abstract for Platform presentation depends solely on the decision of the CMSC Abstract Review Committee in consultation with the CMSC CE Committee.
Poster Presentations: Authors of poster submissions should present information about studies or projects of benefit to the multiple sclerosis scientific and/or clinical community. The work of authors who are industry employees will be considered provided that the authors are employed by the scientific and/or medical divisions. The work of authors in industry sales or marketing posts will not be considered for inclusion in the scientific poster session. This policy shall apply to work submitted individually or in a co-authoring capacity.
Review Process: The CMSC Abstract Review Committee will review all abstracts. Submissions will be evaluated for clarity, relevance to MS, originality, scientific merit, and for the purpose of resolution of any identified conflict of interest (COI) on the part of the author(s). Submissions will be evaluated on an equal basis, whether theme-related or of general interest, although preference will be given to data-based submissions for platform presentations.
Notification: February 28, 2024.
Registration: All Platform and Poster presenters must register for the meeting and will be required to cover all costs related to their annual meeting attendance.
Scholarships: The Consortium of Multiple Sclerosis Centers provides scholarships to MS professionals who wish to attend the annual meeting and require financial assistance. All applicants must meet defined criteria to be eligible. Scholarship details will posted in January 2024.
Platforms: The presenters of abstracts selected as Platforms must be available to present on TBA. The exact time of each platform presentation will be posted in the proceedings of the program. The presentation should not exceed fifteen (15) minutes with five (5) minutes for questions and answers. Due to limited time, some submissions requesting platform presentations may be assigned to the poster session. Platform sessions will be awarded continuing education credit.
Posters: For abstracts selected as posters, the presenter must be available to hang the poster, and will be responsible for the material and supplies needed to present the poster. The size of the poster board is four (4) feet in height and eight (8) feet in width. Posters may be hung beginning on Wednesday, May 29th. There will be a Poster session on TBD. Authors will be expected to stand by their work between TBD and must be available for discussion during the poster session.
All accepted abstracts will be published in the International Journal of MS Care for distribution during the meeting and posted on the CMSC Annual Meeting website at www.mscare.org/2024.
The CMSC offers a number of awards in recognition of the quality of work submitted. The CMSC Research Award will be given to the best Platform and Poster presentations of innovative research in multiple sclerosis. The Patient and Family Education Award will be given to the best Platform and Poster presentations focusing on patient and family education in MS. The Labe C. Scheinberg Award will be presented by the Foundation of the CMSC to the Platform or Poster presentation that has the greatest impact in advancing the care of people with MS. Reviewers will recommend an abstract to be considered for any of the awards.
Research and Education award winners will receive a plaque and free registration to a subsequent CMSC Annual Meeting for the first author only. The Scheinberg awardee will receive a trophy and a cash award from the Foundation of the CMSC.
VIRTUAL POSTER AND PLATFORM SESSION
In 2020, we were forced by the pandemic to cancel our onsite annual meeting and switch to virtual events.  The success of these virtual events were so great that we decided to offer both onsite and virtual sessions for our 2021 Annual Meeting.
Our abstract submission will now include a question regarding the authors' interest to join our virtual session.  The author's response will  not affect the Review Committee's decision to accept or reject an abstract.  
All poster presenters are invited to join us in a virtual poster presentation.  It will be a 2-minute pre-recorded audio with 2-3 slides.  Click here to view the demo.